HOT ROD CHASSIS FABRICATION

Complete new hot rod chassis construction, fabricated by Kustom Bitz at our factory in Croydon VIC using the latest Lakes Hot Rod Parts. Chassis available ~ A model, 32 Ford, 33-34 Ford, 35-40 Ford, 41 Willy's, 33-34 Chev. We can use fabricated rails or stamped rails or your good condition original chassis POA. Other models can be catered for using your good condition original chassis POA.

Standard offer example ~ Hot Rod Chassis 1934 Ford with 350 Chev and Auto, IFS and 4 bar 9 inch rear end . Download now
Other engine combinations and custom applications are P.O.A.

Follow us on Facebook to see our current projects in the Kustom Bitz workshop.
KUSTOM BITZ WORKSHOP FACILITIES

Jig built and TIG welded hot rod chassis using new rails and rigid tubular centre x members



Custom fitting of Willwood brakes to suit Lakes Hot Rod Parts IFS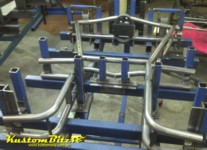 Mandrel bent, Tig welded, Jig made custom X memebers to suit hot rods and custom cars. Can produce them to any length. Including pick up trucks hot rod trucks.



Full Floater Kits for 9 inch diffs supplied and fitted. Shown here is the Romac Floating axles with street brakes fitted to a fabricated diff housing.



Rear 4 bars and hot rod ladder bars jig made and tig welded in our workshop.



Round back 9+ diff housings supplied and fitted. Custom engine mounts made and engines set up in chassis,